BC Equestrian Eventing Association
Eventing, also known as Horse Trials or Combined Training, is an exciting sport in which horse and rider must safely and successfully complete three different phases of competition.
 Announcement:

Planned competiton calendar is posted now.
Maple Ridge Equi-Sports Centre
A family orientated equestrian facility in the heart of Maple Ridge. MREC supports a variety of disciplines including four Horse Trials, Hunter/Jumper shows and a variety of schooling shows throughout each season. MREC has five all weather sand rings, an 18-acre cross country field, 100 covered show stalls and fully licensed Pub on site.
Chase Creek Eventing
Located in the Southern Interior of BC, Chase Creek is a beautiful equestrian center for eventing with a good balance of rolling and flat terrain. There are two large water complexes, many natural jump sites and a great mix of treed and open areas. Our cross-country courses are big, bold, straightforward tracks which are designed to give horses confidence and riders a feeling of accomplishment.
We will not be running the Mustang Powder Horse Trials any more but hope to be able to host clinics from time to time.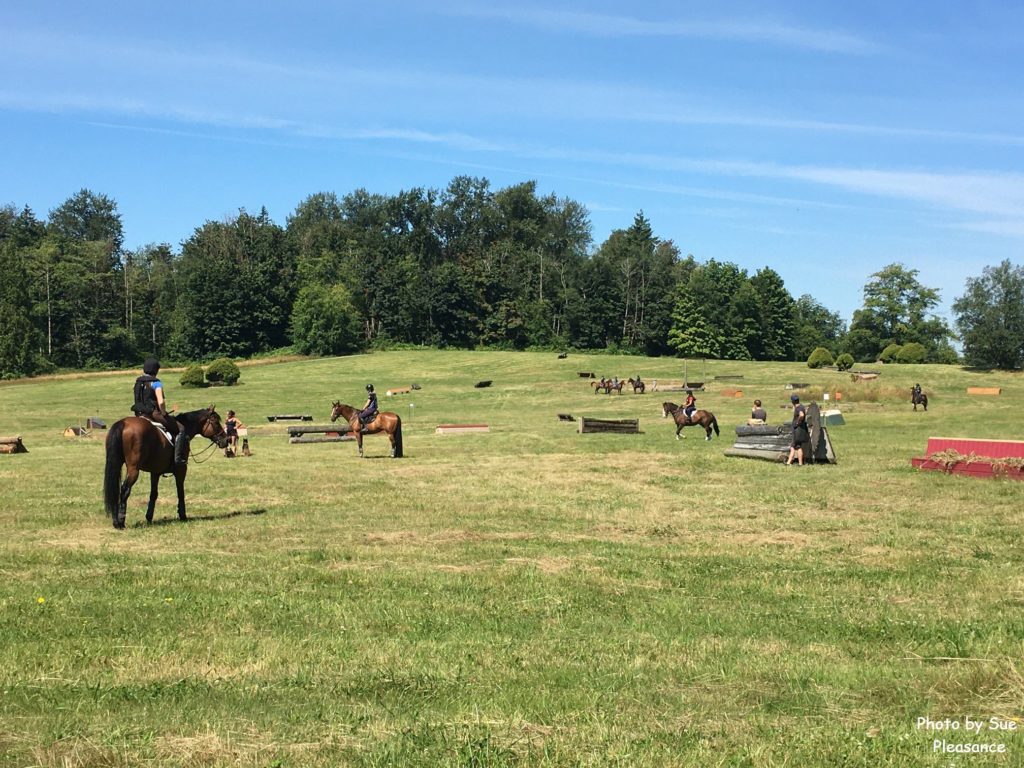 Campbell Valley Equestrian Society
The Campbell Valley Equestrian Society (CVES) is a non-profit organization that is run by volunteers with all revenue generated being put back into the facilities at the park.
CVES built and maintains the riding ring, cross-country jumps and the corrals at the park under an agreement with Metro Vancouver Parks. Beyond maintaining the facilities, CVES organizes Dressage, Jumper and Cross-country schooling days and the exciting the 3 Day Horse Trials in August.
Island 22 Equestrian Park
Island 22 is a regional park located along the edge of the Fraser River in Chilliwack, British Columbia. It is a very diverse park with a boat launch, a bike park, an off-leash dog walking area, and the equestrian park on the other side of the dyke.
The equestrian park has become one of the main training grounds for riders in the Fraser Valley. It is a safe, affordable and beautiful site for all users to enjoy. The park has been around for over 30 years and has lots of history with the equestrian community.
JULIE JOHANNSON
President
Co-Chair - Selection Committee
Chair - Governance and Nominations
Treasurer - Adult Rider Program
DEBBIE DOROSH
Vice President
JAN MILLS
Secretary
Chair - AGM/Banquet
Treasurer - Young Rider Program
MARILYN GREGORY
NON DIRECTOR CONTACT
Memberships
Media & Communications
LYNDA RAMSAY
Director
Co-Chair - Organizers
Chair - Safety & Rules
Chair - Expansion Working Group
CAROL MCDONALD
Director
Chair - Scholarships
Omnibus Coordinator
Co-Chair - Organizers
Co-Chair - Selection
Chair - Membership
NICOLE KOVACIK
Director
Chair - Media & Website
Chair - Champs/Teams/Awards
BRANDY SAUNDERS
Director
Chair - Young Rider Program
KATHLEEN WEARE
Director
Chair - Sponsorship Committee
Chair - Funding
SARA SELLMER
Director
Chair - Adult Rider Program
A History of Eventing in BC
Eventing in BC. the '70s
A memory trip on when and where it all started
Eventing arrived in BC in 1970-71. Pam Arthur had invited Albertan Pip Graham to come and look at property and possibly help design a XC course. Pip had brought eventing to Alberta at his Graham Ranches property in Black Diamond and his wife Nikki and daughter Juliette were keen riders.
This led to the first official recognized competition in BC. at "Livingston Park", a property in Langley owned by Errol Fisher and managed by Pam Arthur. In the same year in Maple Ridge at "MREC" then manager Zolton Stehlo also hosted MRECs first recognized eventing competition. At these original BC competitions, the lowest division offered was the Training division level which was the lowest level national division offered when eventing started in Canada.
MREC has now annually hosted a recognized eventing competition for over 50 years.
In 1971-72 the first recognized eventing competition on Vancouver Island was held at "Pine Paddocks", a property on the Island Highway just south of Duncan managed by Dave and Pat Bowron. Today the original Training division rock wall XC jump still stands in their driveway fence line.
In the same early 1970's time frame the first BC Interior South Okanagan recognized eventing competition was held in Oliver, hosted and managed by David and Rosemary Holmes-Smith. The competition base was the Oliver Fairgrounds where Dressage and Stadium Jumping phases were held, and the XC course was located several kilometers away at "Sea Crest Park" which meant trailering horses to the park for their XC phase and then back to the fairgrounds for stabling.
The BC Young Rider program also began in the early '70s and in 1974 for the first time the North American Young Rider Championships (NAYRC) came to Canada and was held at a farm called Jokers Hill, in southern Ontario, about a half hour drive from Toronto. BC organized a team and with Ron Trickett driving a leased 12 horse van, hauled the first YR team to Ontario with Pam Arthur as coach. In those early days NAYRC was run at the Intermediate division level. Team members were Nick Holmes-Smith on Country Yucca, Holly Wells on Mr.WW, Marion Thomas on High Piece, Lindsay Joyce on High Voltage and Sloan Hammond on Bird Watcher and the team came home with 2nd place and the silver medal.
The original name for eventing in Canada was the "Canadian Combined Training Association" (CCTA) and BC followed suit with the provincial organization named BCCTA and it remained so until 1979 when BC was incorporated under the BC Societies Act and the name was changed to Horse Trials BC (HTBC) which again followed the national name change to Horse Trials Canada. (HTC).
The 1970's also produced BC's first eventing officials with Pam Arthur becoming a recognized eventing XC course designer and eventing coach, and myself BC's first recognized Technical Delegate (TD).
BC Competitors at World Events
1980 Olympics - Moscow
Nick Holmes-Smith
1988 Olympics - Seoul
Nick Holmes-Smith
David Wilding-Davies
1990 World Equestrian Games - Stockholm
Nick Holmes-Smith
Therese Washtock
David Wilding-Davies
1991 Pan Am Games - Georgia
Nick Holmes-Smith
2004 Olympics - Athens
Hawley Bennett-Awad
Bruce Mandeville
Ian Roberts
1992 Olympics - Barcelona
Nick Holmes-Smith
1994 World Equestrian Games - The Hague
Chelan Kozak
Bruce Mandeville
1996 Olympics - Atlanta
Chelan Kozak
Therese Washtock
1998 World Equestrian Games - Rome
Karen Brain
2000 Olympics - Sydney
Bruce Mandeville
2002 World Equestrian Games - Jerez de la Frontera
Bruce Mandeville
2006 World Equestrian Games - Aachen
Ian Roberts
2008 Olympics - Beijing
Samantha St Jacques
2010 World Equestrian Games - Lexington
Hawley Bennett-Awad
Rebecca Howard
Steph Rhodes Bosch
2011 Pan Am Games - Guadalajara
Hawley Bennett-Awad
Rebecca Howard
2012 Olympics - London
Hawley Bennett-Awad
Rebecca Howard
2014 World Equestrian Games - Normandy
Hawley Bennett-Awad
2016 Olympics - Rio de Janeiro
Rebecca Howard
2018 World Equestrian Games - Tryon
Hawley Bennett-Awad
Lisa Marie Ferguson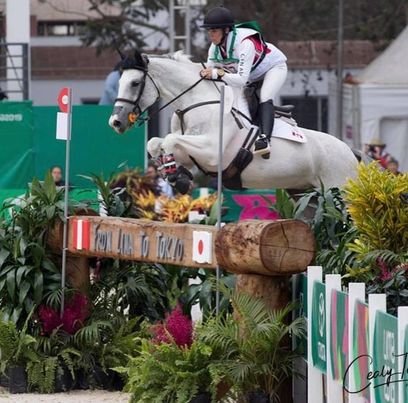 2019 Pan Am Games - Lima
Jordan McDonald Young Rider Bursary
We offer this bursary in honor of Jordan's memory and the McDonald family hopes his story will inspire BC young riders and help give them just a little "leg up".
BCEA/Mary Swanson Educational Scholarship
The Scholarship is given in memory of Mary Swanson in recognition of the huge contribution that she made to eventing and BCEA over many years. The aim of this scholarship is to assist BCEA members or their immediate family (spouse, child or grandchild) when pursuing post-secondary education.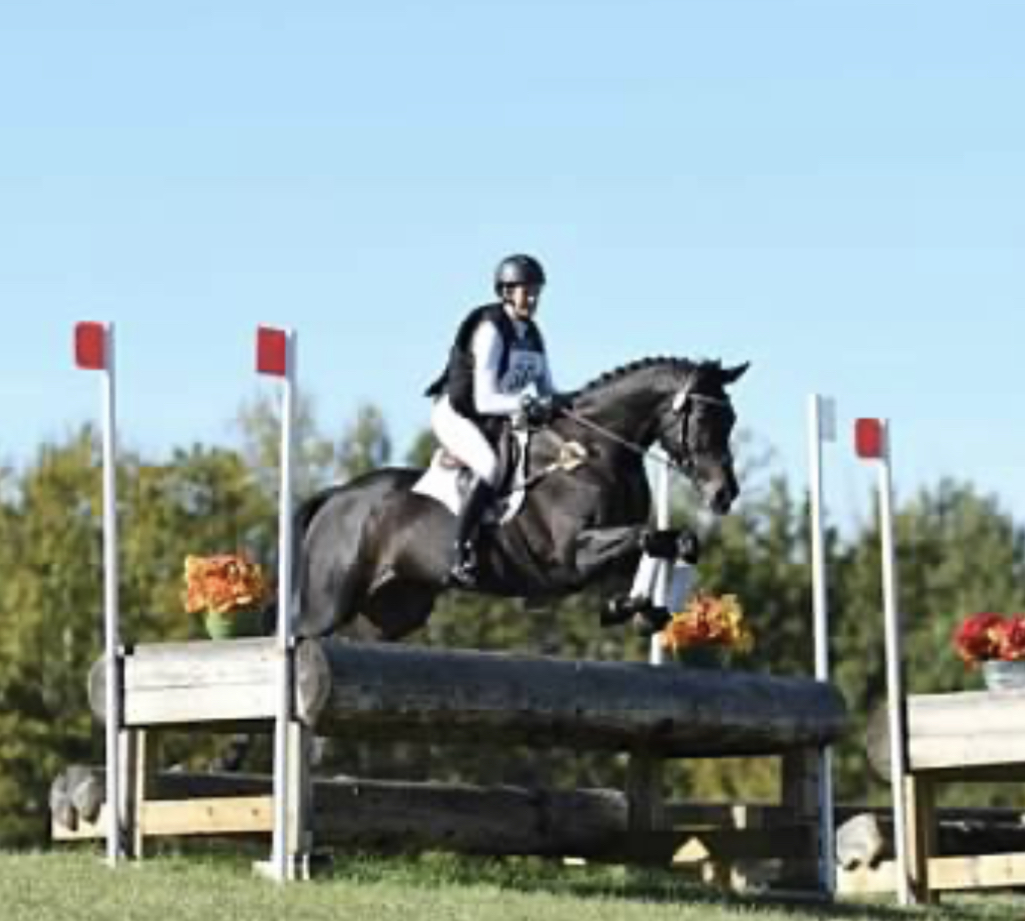 The 2023 Mary Swanson Scholarship goes to Jessica Spoletini. Congratulations Jessica!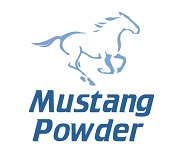 Mustang Powder Lodge is a Snowcat skiing operation located in the remote Monashee mountains northwest of Revelstoke. From December to April we offer 3,4 and 5 day all-inclusive ski holidays.
It is a guided skiing or snowboarding program in powder snow. Guests are treated to gourmet meals, massages, hot tub etc.